UIC Black History Month 2022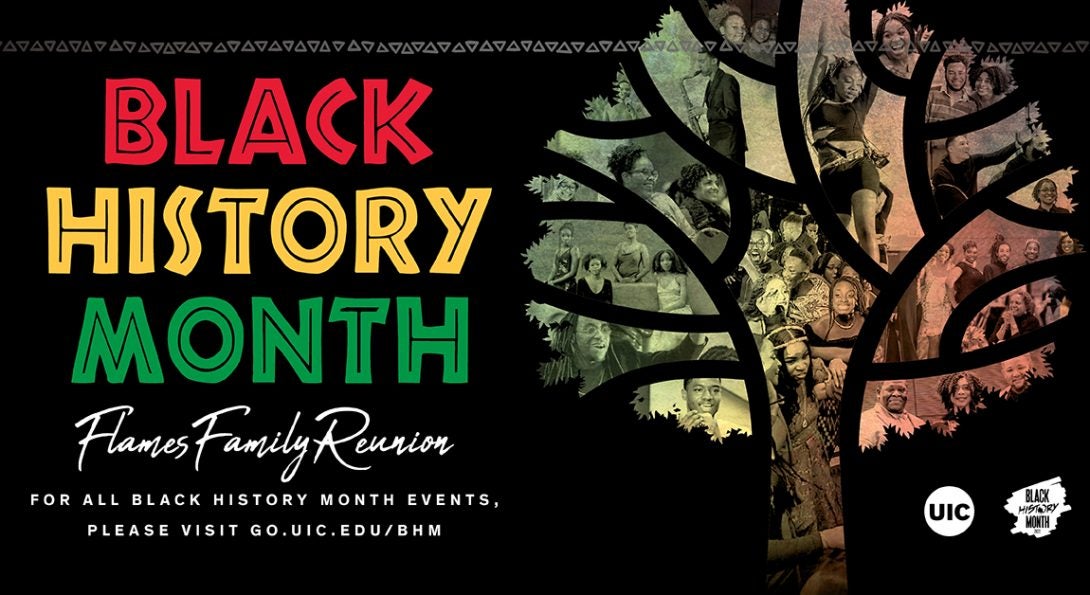 The UIC Black History Month 2022 Student Planning Committee welcomes students, faculty, and staff to partake in this year's recognition of Black History Month.
Black History Month is an annual celebration of achievements by Africans and African Americans and a time for recognizing the central role of Black people in U.S. history. In recognition, several campus events have been scheduled by the University of Illinois at Chicago.
This year's Black History Month theme is Flames Family Reunion! The pandemic has made it difficult for our UIC Flames to physically come together and bond. Catch us all month at the below events to kick back with your UIC family!
Covid - 19 Guidelines: Beginning Jan 5, regardless of vaccination status, attendance at in-person events on campus will require proof of a negative COVID-19 test within 72 hours of the gathering.
Please check back here often to get the latest information on these events.
Black History Month Planning Committee

Black History Month (BHM) at UIC is a collaborative effort between students, staff and faculty here at the university. The Center for Student Involvement is thankful for their support. The following are co-sponsors & collaborators for BHM 2022:

African-American Cultural Center
African American Academic Network
African Student Council
Black Student Union
Black Grad Student Association
CHANCE Program
Chancellors Committee on the Status of Blacks
Collegiate 100
Fraternity and Sorority Life
Honors College
National Association of Colored Women's Clubs Inc. – UIC
National Society of Black Engineers UIC Chapter
Office of Diversity Equity & Engagement
UIC Alumni
University Library
Women's Leadership And Resource Center