Spark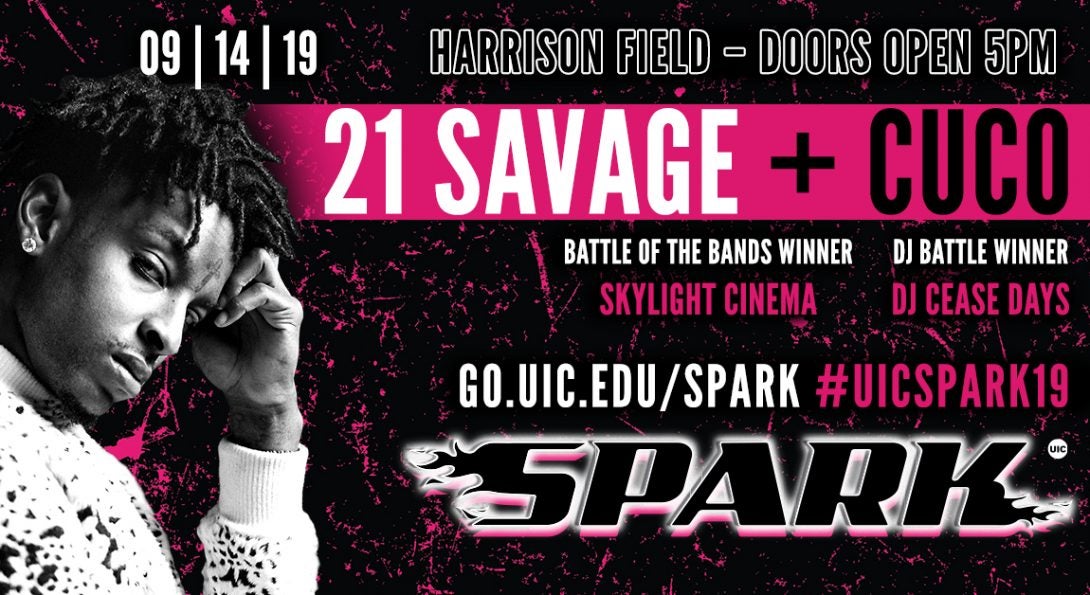 About
Spark is UIC's very own music festival that takes place in the first few weeks of the Fall semester. Spark is free for UIC students. UIC faculty, staff, alumni, and guests are welcome to attend if they purchase a ticket. In 2010 as a back-to-school event, Spark in the Park was designed to bring local, national, little known, and well-known artists to campus. The music fest offers an eclectic mix of entertainment for UIC's diverse campus community.
Since Spark, formerly known as Spark in the Park, began, the UIC Community has been entertained with great music performances from:
Lupe Fiasco (2011)
Childish Gambino/Santigold/Kids These Days (2012)
Kendrick Lamar/Chance the Rapper/Frankie Knuckles/Griz (2013)
J. Cole (2014)
Twenty One Pilots/Wale (2015)
Travis Scott/Young Thug/Daya (2016)
Nick Jonas/Big Baby DRAM(2017)
H.E.R./Rich the Kid/Femdot (2018)
21 Savage/Cuco (2019)
Join us for Spark 2019 on Saturday, September 14, 2019 at 5pm!
Check out https://go.uic.edu/Spark for more info on all things Spark!
Check out footage and pictures from previous Spark festivals below
Featuring
A FREE concert for UIC students to enjoy
Food! (available for purchase)
UIC's Battle of the Bands winner: Skylight Cinema
UIC's DJ Battle winner: DJ Cease Days
Opener: Cuco
Headliner: 21 Savage
Follow @UICCSI on social media to get any exciting updates #UICSpark19
Ticket Information
UIC Students get in for free! At Spark 2019, you will need to present your UIC EventPass and EventBrite ticket at the gate. Below are details on how to get both.
Event Pass
Log on to connect.uic.edu
Add your photo to your profile
Click on your initials in the top right corner
Click "EventPass" and save it to your phone
Present it at the doors and you're all set!
EventBrite
Students enter the concert for free, but need to RSVP beforehand. Each UIC student, faculty, staff is allowed one non-UIC guest. UIC Student Code of Conduct guest policy applies. Prices for non-UIC students are as follows:
UIC Staff/ Faculty/Alumni: $35 (with UIC Event Pass/i-Card/Graduation information)
Non UIC Guests: $45 (UIC student, staff, faculty, or alumni information required)
Tickets are not transferrable. You must have identification to enter the venue. Identification must match ticket holder. Tickets are available for purchase with the following link: uicspark2019.eventbrite.com
Additionally, free VIP Passes will be given to UIC Students who enter into contests found on our social media pages @UICCSI. Students MUST be following UIC CSI's Facebook, Instagram, or Twitter page to win a VIP Pass.
FAQ's
What is Spark?
Spark is UIC's annual music festival that is free for students to attend.
Who is performing at Spark 2019?
Spark 2019 will feature performances from 21 Savage and Cuco! We also have student performances by Skylight Cinema and DJ Cease Days.
When will Spark take place?
Spark is scheduled for Saturday, September 14th, 2019. Doors open at 5 pm and the first act will perform at 5:30pm
Where will Spark take place?
Spark 2019 will take place in Harrison Field, 836 W Harrison Street. The field is located on the corner of Harrison St and Halsted St.
Do I have to pay for Spark?
UIC Students get free entry to Spark with a valid EventPass that can be found on connect.uic.edu. Each student can purchase one additional guest ticket for $45. Guest tickets can be purchased now at uicspark2019.eventbrite.com
Can I bring a non-UIC student?
Yes! UIC students can bring one additional guest who will gain entry with purchase of a ticket. Tickets are available for purchase at uicspark2019.eventbrite.com
What are the venue rules?
Venue Rules for Spark are as follows:

Spark is an alcohol and substance free event
No bags larger than a fanny pack or small purse are allowed inside the venue
Outside food and drinks are prohibited
No water bottles allowed
No professional videos, audio or flash photography at the event. (Nikon, Canon, detachable lenses, etc.)
No re-entry into the venue
No selfie sticks
How do I perform at Spark?
Student can perform at Spark by participating in UIC's Battle of the Bands or DJ Battle. For more information on these events, follow @UICRadio on social media.
How do I emcee at Spark?
To emcee at Spark, please visit our social media pages @UICCSI or look up the hashtag #UICSparkEmcee
Follow us on social media to stay updated on all things Spark!