Spark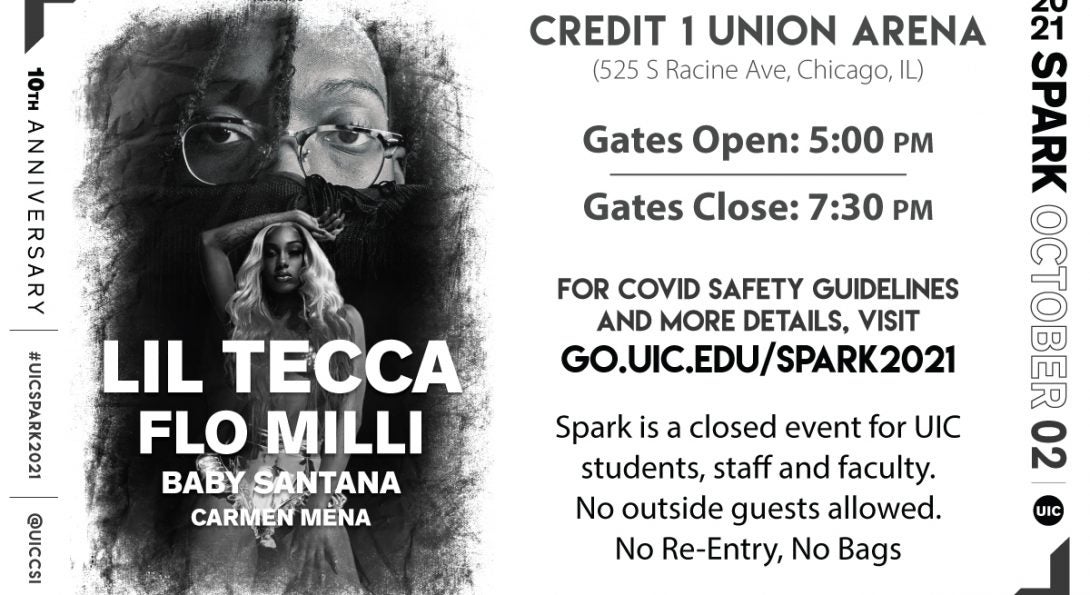 Spark is UIC's very own music festival that takes place in the first few weeks of the Fall semester. Spark is free for UIC students. In 2010 as a back-to-school event, Spark in the Park was designed to bring local, national, little known, and well-known artists to campus. The music fest offers an eclectic mix of entertainment for UIC's diverse campus community.
Join us for Spark 2021 on Saturday, October 2, 2021!
We are excited to announce that Lil Tecca and Flo Milli will be performing at this year's Spark! Spark is UIC's annual fall concert that is FREE for current UIC students. This year, the concert will take place at Credit Union 1 Arena on Saturday, October 2, 2021.
Featuring:
A FREE concert for UIC students to enjoy
Food! (available for purchase)
Headliner: Lil Tecca
Opener: Flo Milli
Supporting Acts:
BabySantana
Carmen Mena
UIC Radio DJ Battle winner: DJ Teddy Tease
Spark is a closed event for UIC students, staff and faculty. No outside guests allowed. No tickets for sale. UIC daily pass required for entry. Students might be asked to show their vaccination cards. No re-entry.
Gates open at 5:00 pm and close at 7:30 pm. No re-entry. Please take advantage of our pre-check to help speed up check-in.
Follow @UICCSI on social media to get any exciting updates #UICSpark2021
Additionally, free VIP Passes will be given to UIC Students who enter into contests found on our social media pages @UICCSI. Students MUST be following UIC CSI's Facebook, Instagram, or Twitter page to win a VIP Pass.
*Update Wednesday, September 29th* Due to rain in the forecast for Saturday, October 2nd, Spark will be moved inside to Credit Union 1 Arena located at 525 S Racine Ave, Chicago, IL 60607. This was a difficult decision but our top priority is the safety of our students, staff, vendors and performers.
Ticket Information

UIC Students get in for free! At Spark 2021, you will need to present your UIC EventPass and UIC Daily Pass at the gate. Below are details on how to get both.

Event Pass

Log on to uic.edu
Add your photo to your profile
Click on your initials in the top right corner
Click "EventPass" and save it to your phone
Present it at the doors and you're all set!

Daily Pass

Check-in:

October 2 – You may check-in at Credit Union 1 Arena. Please expect long line.  You will need to wear your mask inside.

Security Checkpoint
Health Checkpoint
Event Pass Checkpoint

Covid-19 Guidelines

The safety of our students, staff, faculty, performers, volunteers and vendors is very important to us. Please make sure to have your Covid-19 vaccine information ready for the day of the event. Everyone will be asked to show their UIC daily pass or vaccine card and/or a negative Covid-19 test.

Vaccinated UIC Students:
Once the vaccination status is confirmed masks will be required inside Credit Union 1 Arena. You may be asked for proof of vaccination card so please bring it.

Un-Vaccinated UIC Students:
A student must have a negative COVID-19 test no more than 72 hours before attending in accordance with CDPH guidance. At-home tests will not be accepted.  Names on the documents must match their UIC i-Card. Masks must be worn.

While eating inside, social distancing is required for all students.  We recommend all students to take a COVID-19 test before and after Spark. Please be sure to report any exposures or possible positive test results to https://www.redcap.ihrp.uic.edu/surveys/?s=PH78WANDNX 

Pre – Check:
To help with a speedy check in on the night of the event we will provide pre-check for Spark on the following dates:

September 30 – 12pm to 6pm (Illinois Room, Student Center East | 750 S. Halsted Street)
October 1 – 12pm to 6pm (Illinois Room, Student Center East | 750 S. Halsted Street)

Check-in:

October 2 – You may check-in at Credit Union 1 Arena. Please expect long line.  You will need to wear your mask inside.

Security Checkpoint
Health Checkpoint
Event Pass Checkpoint

Parking

On behalf of Parking Services, UIC will offer free parking for UIC students Spark 2021!  Please park at the following locations:

Harrison Street Parking Structure | 1100 West Harrison Street
Lot 1B | 1139 West Harrison Street

Food & Beverages

Spark is an alcohol and substance free event.

No outside food or beverages permitted.

No water bottles allowed. Free bottles of water will be provided.

Food will be available for purchase. Expect long lines so make sure to eat before you arrive as well. Bring cash and card.

Venue Rules

The following is a partial list of items that are prohibited at all Credit Union 1 Arena events:

Outside Food and Beverage
Cameras: No flash/professional photography
Audio or Video Recording Devices
Selfie sticks
Bags: Backpacks, Large Bags, Suitcases, or any purse/bag larger than 14″x14″x6″
Tripods/Monopods, Laser Pointers, Alcohol, Drugs, Noise Making Devices, Fireworks, Flashlights, Skateboards/ Rollerblades, Beach Balls, Cans or Bottles
Any item that could pose a safety hazard or restrict the enjoyment of another guest
Weapons are prohibited. Weapons include, but are not limited to, the following: firearms, explosives, stun guns, handcuffs, brass knuckles, sticks, clubs, batons, martial arts instruments, pepper spray, tear gas, knives, etc. Guests found in possession of the above-mentioned items will be asked to remove the item from the venue or dispose of it. Guests who refuse to comply will be ejected from the venue and may be subject to arrest.
No re-entry into the venue

Past Spark Performers

Since Spark, formerly known as Spark in the Park, began, the UIC Community has been entertained with great music performances from:

Lupe Fiasco (2011)
Childish Gambino/Santigold/Kids These Days (2012)
Kendrick Lamar/Chance the Rapper/Frankie Knuckles/Griz (2013)
Cole (2014)
Twenty One Pilots/Wale (2015)
Travis Scott/Young Thug/Daya (2016)
Nick Jonas/Big Baby DRAM(2017)
E.R./Rich the Kid/Femdot (2018)
21 Savage/Cuco (2019)

Join us for Spark 2021 on Saturday, October 2, 2021!

Check out footage and pictures from previous Spark festivals below