UIC Homecoming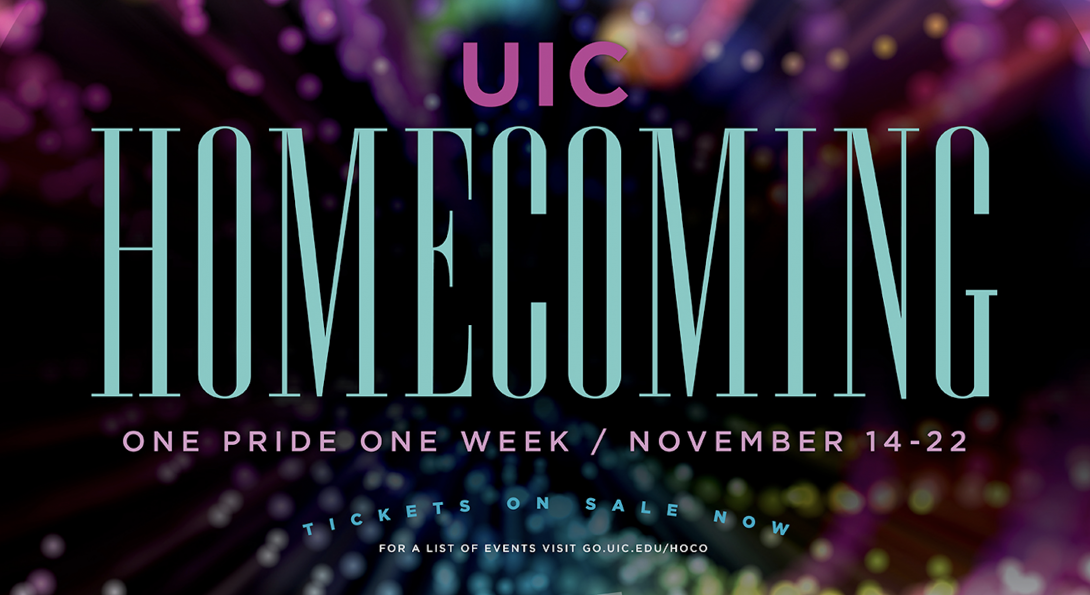 Fire up for UIC Homecoming! UIC Students, faculty, staff, and alumni are invited to UIC Flames Homecoming 2019, that time of the year where we all come together to celebrate the past present and future of UIC.
Featured 2019 Homecoming Events:
We hope that you will be able to join us for at least one of the events happening during the week! Show us how much fun you are having at the events by tagging us on social media with #UICHOCO.
Hustle up UH 11/15

Ever wondered how many floors are in UIC's University Hall (UH)? 28. 28 floors to conquer!

Similar to Chicago's Hustle Up the Hancock, this is UIC's very own event that challenges students, staff, faculty, and alumni to climb to the top of University Hall. At the top, grab a snack, rest and relax, and enjoy the best view UIC's campus has to offer. Registration proceeds will go towards UIC's Pop-Up Food Pantry, a campus resource aimed at combating food insecurity among UIC students.

$5 for students
$10 for alumni, staff, and faculty

Registration starts at 4:30pm and the first wave will commence at 5pm. We hope to see you there!

Hosted by UIC University Ambassadors

Paint the Windows 11/16 & 11/17

Top three organization winners will be awarded Student Organization Support funds. First place $200 SOR Support, second place $100 SOR Support, and third place $50 SOR Support. Windows will be judged on creativity, incorporation of the Homecoming theme, and, of course, school spirit!

Paint, brushes, and supplies to COVER THE FLOOR under the windows will all be supplied. Absolutely NO OUTSIDE ART SUPPLIES WILL BE ALLOWED!

Organizations must clean up all excess paint from their area–window frames, tables, floors, etc.

Painting will be limited to an assigned window.

Winners will be selected by UIC Alumni and Staff Representatives. Prizes will be awarded on Monday, November 18.

Taste of UIC 11/20

Taste of UIC is on Wednesday, November 20th from 12pm – 2pm. We are looking for student organizations who are interested in participating. Each organization would prepare a booth with an exhibit to show the essence of their organization's culture. This can include any traditional clothing, art by members of your culture, languages, or just interesting facts that make your culture unique. UIC students will be encouraged to visit your booth and get a 'taste' of the variety of cultures our university encompasses.  With the event date approaching quickly we ask that if you are interested in exhibiting your culture at Taste of UIC that you fill out THIS form no later than November 17th.

UIC vs. Robert Morris Basketball Game 11/21

Pizza party at 6pm and game is at 7pm. More details soon. Tickets to the game are free for UIC students.

Homecoming Dance 11/22

UIC students with a valid iCard may purchase up to 2 tickets, one for yourself and one for a guest. We only have a limited amount of tickets so buy yours today.

Things to note:

No parking at the Revel Fulton Market
No outside food or beverages. Refreshments and hors d'oeuvres will be provided.
No bookbags.
Coat check will be available.
No jeans or sneakers.
No tickets will be sold at the door.
Your guest requires a photo ID/Driver's License/State ID
UIC students need to bring their UIC Event Pass

Shuttles will be available to take you and a guest from UIC Student Center East to the Revel Fulton Market and back. Email will go out regarding shuttle information soon. Light refreshments provided at the dance.

TICKETS SOLD HERE