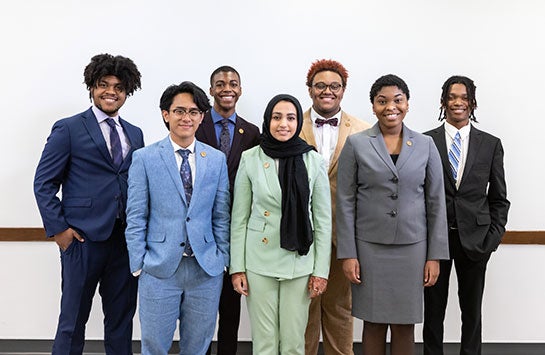 The University of Illinois at Chicago Forensics Program is an intercollegiate speech team. We represent UIC at regional and national speech competitions (similar to the UIC basketball, track and other athletic teams).
Forensics is the study and practice of public speaking, oral interpretation and debate. Speakers and performers seek to move, persuade or inspire their audience.
While less than a decade old, the UIC Speech has been one of the most successful teams in UIC's history ranking in the top 15 of teams in the nation; even earning the 2021 National Speech Championship's National Title for programs that do not offer scholarships.
It all started with a tweet. When Mikey Martinez was a freshman at the University of Illinois at Chicago in the winter of 2015, he was upset about them not having a platform for competitive public speaking. He took to social media, complaining "Why are we the only college in Illinois pretty much that doesn't have a speech team?" UIC had a simple tweet in response: "well, start one," and the UIC Speech journey began.

The spring of 2016 was a busy season of planning; President and Founder Mikey Martinez recruited Brittany Neloms and Meghna Peesapati to serve as the respective first Vice President and Treasurer of the team. The three of them fundraised, became a registered student organization, and recruited other members to help grow the UIC Speech Team's legacy. The team's first competition was MAFL 1-2 at Minnesota State University Mankato. Although they began with no formal coaches, Mikey, Brittany, and Meghna worked with future Vice President Sunil Dommaraju and future Treasurer Damon Horn to create a supportive peer coaching environment.

With their speeches memorized and practiced, Mikey, Brittany, Meghna, and Sunil drove themselves to their first competition. At MAFL 1, Mikey placed 4th in impromptu speaking, marking UIC's first ever tournament final. At MAFL 2, Brittany brought home the team's first tournament championship, winning Dramatic Interpretation. UIC's breakout performance put the team on the map.

As the year progressed, the UIC Speech Team began to grow their network. Close relationships with Northwestern University, Bradley University, and Illinois State University allowed for the UIC students to learn and grow with their peers. The team grew, adding Jacob Krol (future President), Kris Trandai, and Nidhi Khare. This small and mighty squad handled all fundraising and operations logistics. With no formal coaching staff, the team finished their first year with five team trophies (including a 4th place finish at the esteemed ISU 74 Swing) and 59 regular season finalists.

At their first National Forensics Association tournament at the University of Wisconsin—Eau Claire, the team boasted an impressive top 22 finish, placing 4th in President's Division II. Sunil Dommaraju finished the NFA National Tournament as a two-time novice champion (Informative and Persuasive), as well as with a quarter final in Rhetorical Criticism, making Sunil UIC's first ever competitor to make out rounds at a national competition.

UIC's strong inaugural performance not only garnered the attention of UIC administration, but it also attracted some of the nation's best coaches to UIC. Under the guidance of Vance Pierce, Mikey and the executive board were counseled on how to secure funding for team support. This allowed for Hananiah Wiggins, Sami White, Richie Hartz and Kyle Deininger to formally join the team as UIC's first ever coaches. A limited budget catapulted the UIC team to new heights. In the 2017-2018 season, the team grew to 11 members, saw 119 tournament finalists, and earned 10 regular season team sweepstakes trophies. Mikey, Sunil, Nidhi, Jacob, and Brittany led the UIC team to a 17th place finish at UIC's first ever American Forensics Association NIET at Colorado College, with Brittany becoming the team's first ever national finalist (6th place in Dramatic Interpretation).

The UIC Team then traveled to the University of Wisconsin–Oshkosh to compete in the National Forensics Association National Tournament; they did not disappoint. The team saw 11 events break into out-rounds, including a quarterfinal in impromptu from Nidhi, a semifinal in Extemp from Mikey, and a 4th place finish for Brittany in Dramatic Interpretation. Jaws of coaches from around the country dropped when UIC was announced as the 9th best team in the nation. In just two years, a top 10 ranked speech program was born.

The story continues…

2021 National Forensics Association (NFA) Tournament

Extemporaneous Speaking

National Champion – Maleeha Rasheed

Impromptu Speaking

5th Place – Maleeha Rasheed

Prose Interpretation

Semi-Finalist – Jazz Jabulani

Duo Interpretation

Quarter-Finalist – Jaron Cano / Onyinye Udeogu

Quarter-Finalist – Zoe Bridges / Damian Samsonowicz

Octo-Finalist – Jazz Jabulani / Damian Samsonowicz

Rhetorical Criticism

Quarter-Finalist – Lavontae Morrow

Program Oral Interpretation

Quarter-Finalist – Lavontae Morrow

Quarter-Finalist – Damian Samsonowicz

Poetry Interpretation

Quarter-Finalist – Lavontae Morrow

Octo-Finalist – Jazz Jabulani

Octo-Finalist – Darrow Richmond

Octo-Finalist – Onyinye Udeogu

Dramatic Interpretation

Quarter-Finalist – Jazz Jabulani

Octo-Finalist – Onyinye Udeogu

Octo-Finalist – Damian Samsonowicz

Persuasive Speaking

Octo-Finalist – Damian Samsonowicz

Informative Speaking

Octo-Finalist – Zoe Bridges

Octo-Finalist – Lavontae Morrow

After Dinner Speaking

Octo-Finalist – Jazz Jabulani

Octo-Finalist – Onyinye Udeogu

Octo-Finalist – Maleeha Rasheed

Open Team Sweepstakes

8th Place

2021 American Forensics Association (AFA) Tournament

After Dinner Speaking

Semi-Finalist – Jazz Jabulani

Poetry Interpretation

Quarter-Finalist – Onyinye Udeogu

Informative Speaking

Quarter-Finalist – Jaron Cano

Prose Interpretation

Quarter-Finalist – Onyinye Udeogu

Program Oral Interpretation

Quarter-Finalist – Lavontae Morrow

Duo Interpretation

Quarter-Finalist – Damian Samsonowicz / Jazz Jabulani

Impromptu Speaking

Quarter-Finalist – Maleeha Rasheed

Open Team Sweepstakes

13th Place

2021 National Speech Championship (NSC)

After Dinner Speaking

Semi-Finalist – Jazz Jabulani

Quarter-Finalist – Maleeha Rasheed

Communication Analysis

6th Place – Damian Samsonowicz

Semi-Finalist – Lavontae Morrow

Informative Speaking

2nd Place – Zoe Bridges

Quarter-Finalist – Lavontae Morrow

Extemporaneous Speaking

Semi-Finalist – Chris Rapp

Quarter-Finalist – Maleeha Rasheed

Impromptu Speaking

National Champion – Maleeha Rasheed

Prose Interpretation

2nd Place – Onyinye Udeogu

Quarter-Finalist – Zoe Bridges

Poetry Interpretation

Semi-Finalist – Onyinye Udeogu

Quarter-Finalist – Lavontae Morrow

Duo Interpretation

Semi-Finalist – Damian Samsonowicz / Jazz Jabulani

Quarter-Finalist – Onyinye Udeogu / Jaron Cano

Interviewing

4th Place – Maleeha Rasheed

Program Oral Interpretation

5th Place – Damian Samsonowicz

Semi-Finalist – Lavontae Morrow

Dramatic Interpretation

4th Place – Damian Samsonowicz

Quarter-Finalist – Jazz Jabulani

Non-Scholarship Programs Sweepstakes

National Champions

Open Team Sweepstakes

5th Place

2021 Illinois Intercollegiate Forensics Association (IIFA) State Tournament 

Poetry Interpretation

State Champion – Onyinye Udeogu

Dramatic Interpretation

State Champion – Damian Samsonowicz

Informative Speaking

State Champion – Zoe Bridges

2nd Place – Lavontae Morrow

3rd Place – Maleeha Rasheed

Duo Interpretation

State Champions – Onyinye Udeogu / Jaron Cano

3rd Place – Jazz Jabulani / Damian Samsonowicz

Impromptu Speaking

State Championship – Maleeha Rasheed

Extemporaneous Speaking

State Championship – Chris Rapp

Prose Interpretation

2nd Place – Onyinye Udeogu

5th Place – Zoe Bridges

After Dinner Speaking

3rd Place – Jazz Jabulani

Program Oral Interpretation

3rd Place – Damian Samsonowicz

Communication Analysis

5th Place – Damian Samsonowicz

Individual Speaker Sweepstakes

State Champion – Damian Samsonowicz

2nd Place – Onyinye Udeogu

Debate Individual Speaker Sweepstakes

5th Place – Maleeha Rasheed

Individual Events Team Sweepstakes

2nd Place

Open Team Sweepstakes

2nd Place

2020 Illinois Intercollegiate Forensics Association (IIFA) State Tournament

 Dramatic Interpretation

4th Place – Onyinye Udeogu

Impromptu Speaking

3rd Place – Maleeha Rasheed

Communication Analysis

4th Place – Damian Samsonowicz

2019 National Forensics Association (NFA) Tournament

 After Dinner Speaking

Octo-Final – Jacob Krol

Extemporaneous Speaking

Semi-Finalist – Mikey Martinez

Quarter-Finalist – Sunil Dommaraju

Quarter-Finalist – Nidhi Khare

Quarter-Finalist – Maleeha Rasheed

Impromptu Speaking

5th Place – Nidhi Khare

Semi-Finalist – Ashwini Deshpande

Quarter-Finalist – Sunil Dommaraju

Octo-Finalist – Jacob Krol

Octo-Finalist – Maleeha Rasheed

Persuasive Speaking

Quarter-Finalist – Mikey Martinez

Rhetorical Criticism

Octo-Finalist – Ashwini Deshpande

Octo-Finalist – Sunil Dommaraju

Novice Prose Interpretation

4th Place – Jaron Cano

President's One Division Team Sweepstakes

4th Place

Open Team Sweepstakes

11th Place

2019 American Forensics Association (AFA) Tournament

Extemporaneous Speaking

Quarter-Finalist – Sunil Dommaraju

Impromptu Speaking

Semi-Finalist – Mikey Martinez

Quarter-Finalist – Sunil Dommaraju

After Dinner Speaking

Semi-Finalist – Sunil Dommaraju

Open Team Sweepstakes

16th Place

2019 Illinois Intercollegiate Forensics Association (IIFA) State Tournament

Communication Analysis

Top Novice – Maleeha Rasheed

Extemporaneous Speaking

2nd Place – Jacob Krol

3rd Place – Mikey Martinez

Impromptu Speaking

4th Place – Mikey Martinez

5th Place – Jacob Krol

2018 National Forensics Association (NFA) Tournament

After Dinner Speaking

Octo-Finalist – Damon Horn

Octo-Finalist – Mikey Martinez

Dramatic Interpretation

4th Place – Brittany Neloms

Extemporaneous Speaking

Semi-Finalist – Mikey Martinez

Octo-Finalist – Ashwini Deshpande

Octo-Finalist – Jacob Krol

Impromptu Speaking

Quarter-Finalist – Nidhi Khare

Quarter-Finalist – Mikey Martinez

Octo-Finalist – Meghna Peesapati

Informative Speaking

Octo-Finalist – Sunil Dommaraju

Persuasive Speaking

Octo-Finalist – Sunil Dommaraju

Poetry Interpretation

Semi-Finalist – Brittany Neloms

Rhetorical Criticism

Quarter-Finalist – Mikey Martinez

Octo-Finalist – Meghna Peesapati

Novice Informative Speaking

2nd Place – Ashwini Deshpande

Novice Persuasive Speaking

4th Place – Ashwini Deshpande

President's One Division Team Sweepstakes

2nd Place

Open Team Sweepstakes

9th Place

2018 American Forensics Association (AFA) Tournament

Communication Analysis

Semi-Finalist – Sunil Dommaraju

Quarter-Finalist – Mikey Martinez

Dramatic Interpretation

6th Place – Brittany Neloms

Open Team Sweepstakes

17th Place

2018 National Speech Championship (NSC)

After Dinner Speaking

4th Place – Damon Horn

Prose Interpretation

Quarter-Finalist – Damon Horn

2017 National Forensics Association (NFA) Tournament

 Rhetorical Criticism

Quarter-Finalist – Sunil Dommaraju

Novice Informative Speaking

National Champion – Sunil Dommaraju

Novice Persuasive Speaking

National Champion – Sunil Dommaraju

President's II Division Team Sweepstakes

4th Place

Open Team Sweepstakes

22nd Place

2017 National Speech Championship (NSC)

After Dinner Speaking

Quarter-Finalist – Jacob Krol

Communication Analysis

Quarter-Finalist – Sunil Dommaraju

Quarter-Finalist – Jacob Krol

Dramatic Interpretation

Semi-Finalist – Brittany Neloms

Extemporaneous Speaking

Semi-Finalist – Mikey Martinez

Quarter-Finalist – Meghna Peesapati

Impromptu Speaking

Semi-Finalist – Mikey Martinez

Quarter-Finalist – Nidhi Khare

Informative Speaking

Quarter-Finalist – Mikey Martinez

Quarter-Finalist – Sunil Dommaraju

Persuasive Speaking

Quarter-Finalist – Sunil Dommaraju

Quarter-Finalist – Damon Horn

Poetry Interpretation

Quarter-Finalist – Mikey Martinez

Quarter-Finalist – Damon Horn

Program Oral Interpretation

Quarter-Finalist – Damon Horn

Open Team Sweepstakes

16th Place