Student Org Conference 2022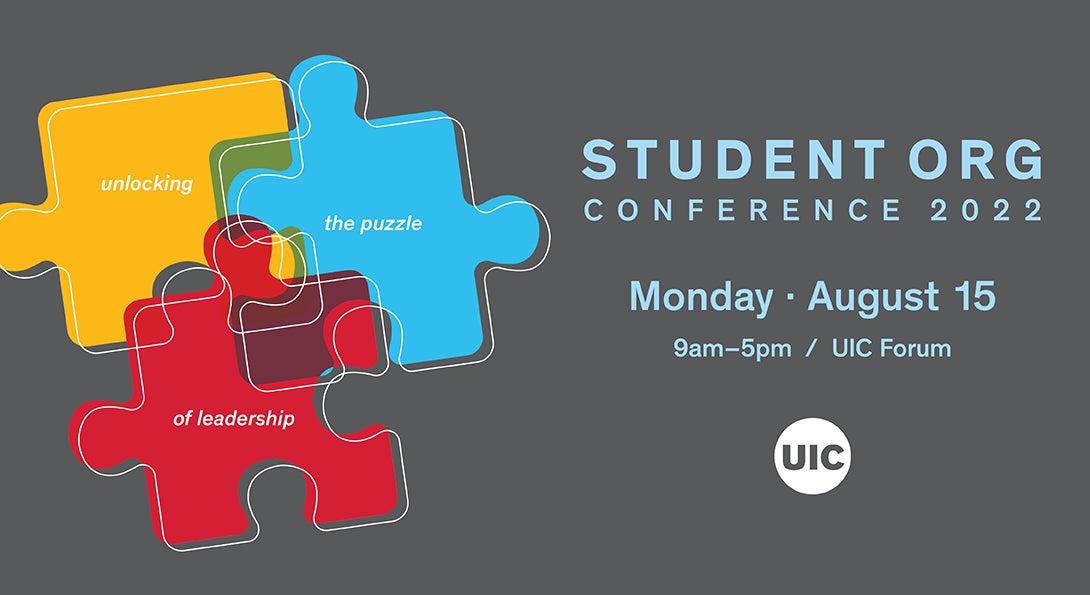 Unlocking the Puzzle of Leadership
The Center for Student Involvement is proudly hosting the UIC's Student Org Conference 2022 | Unlocking the Puzzle of Leadership on Monday, August 15, 2022 from 9am to 5pm CST at the UIC Dorin Forum. For the first time in a couple of years, we are gathering our student organization leaders to support our student organization leaders.
The detailed schedule will be provided soon!
9:30 am | Check-in and breakfast
10:00 am | Welcome
10:30 am | Session 1
10:30
Room D
Advisor 101
Rae Joyce Baguilat
10:30
Room E
Grad Group
Kevin Cane
10:30
Main Hall
Event Planning
Sladjana Grbic
10:30
Room F
Motivation for e-board and Member
Nehemiah Chung
11:45 am | Networking/Student Org Expo
12:00 pm | Student Org Expo and lunch
1:40 pm | Session 2
1:40
Room D
Marketing
Sladjana Grbic
1:40
Main Hall
Budget 101
Joy Vergara
1:40
Room E
Student Travel
Kevin Cane
1:40
Room F
Transition
Lori Marshall
1:40
Room H
Advisor 201
Vance Pierce
1:40
Room I
Working with Org Advisors
Joey Maman
2:40 pm | Session 3
2:40
Main Hall
Budget 201
Vance Pierce/Valerie Gordon
2:40
Room E
Conflict & Communication
Samantha Glennon
2:40
Room F
Member Burnout/Retention
Joey Maman
2:40
Room G
Meeting 101 - Schedule, Running, Minutes
Rae Joyce Baguilat
3:40 pm | Session 4
3:40
Room E
Grad Funding
Michelle Ramirez
3:40
Room D
Community Outreach/Service
Keith Lewis/Ebony
3:40
Room F
Self-Care/Mental Health
Belva Miles
3:40
Main Hall
Teambuilding & Facilitation
Samantha Glennon
3:40
Room G
DEI/Office of Diversity/Bystander/Bias
Jess Joslin
Goals of the conference:
Student organization leaders and advisors will learn...
leadership skills to be effective in their respective roles
how CSI can help support your student organizations be successful by understanding UIC policies, procedures, and practices
to reserve space
about key dates, deadlines, upcoming events, and opportunities
about campus partners and how they can help their student organization
to network with other student organization leaders
Departments/vendors: if you would like a table for the Student Organization Expo (10:30am to 1:30pm), please email StudentInvolvement@uic.edu by August 5th.