Involvement Fair 2023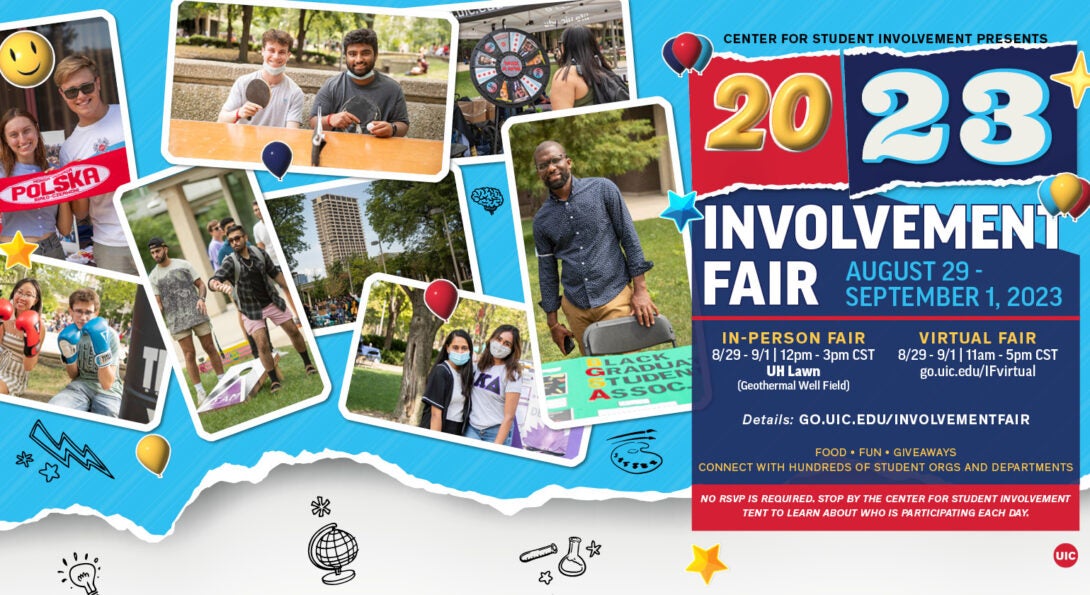 This year's Fall Involvement Fair 2023 will be IN-PERSON and VIRTUAL from August 28 to September 1, 2023. With 300 tables of student organizations, community service partners, and campus departments on each day, all students can Explore, Expand, and Excel as a UIC Flame! See below who will have a table or a virtual booth !!
Information for Registered Student Organization and Departments:
New networking tool - digital networking cards will be provided!  You can give your organization contact information directly students' phone - tap and save. You will also receive their name and email. 
Virtual Involvement Fair Instructions - please check your email 8/14/2023 from StudentInvolvement@uic.edu
Confirmations will be sent on 8/14/2023 from StudentInvolvement@uic.edu
Sign-up In -Person Table for Departments: https://go.uic.edu/IF-DepartmentSignUp
Waitlist : TBD
August 29-Sept 1 | In-Person 
10:30am CST – Check-in outside for each day
12pm to 3pm  CST - Event time
3pm to 3:30pm – Clean up
Location: University Hall lawn near 901 W. Harrison Street
See the map to find your organization each day! It will be posted here each day.
August 28 – September 1 | Virtual
Groups signed up for Tuesday, August 29, 2023, in alphabetical order.

1 2 Boxing Club
Aahana
Accounting Club
Active Minds at UIC
Adoptee Student Union
Al Bayyan
alpha Kappa Delta Phi
Alpha Kappa Psi
Alpha Phi Alpha Fraternity, Inc.
Alpha Phi Gamma National Sorority Inc.
Alpha Phi Omega
Alpha Psi Lambda National, Inc.
Alpha Sigma Tau
American Association of Public Health Dentistry
American Institute of Aeronautics and Astronautics
American Marketing Association Collegiate Chapter
American Pharmacists Association-Academy of Student Pharmacists Rockford
American Society of Civil Engineers
Anakbayan
Applied Health Science Student Council
Archery Club at UIC
Art Collective at UIC
Asian American Students In Alliance
Asian Campus Fellowship
Asian Christian Fellowship
Association for Computing Machinery
Association of Indian Pharmacists in America
Association of Justice for Kashmir
Association of Latino Professionals For America
Autoimmune Action & Advocacy
Badminton Team
Beta Gamma Sigma
Biomedical Discovery Club
Biomedical Engineering Society
Black Graduate Student Association
Black Pharmacy Student Assocation
Black Student Coalition
Black Students in Business
Black, Indigenous, People of Color Dietetics and Nutrition Association
Blood Buds
Blood Drive at UIC
BRASA at UIC
Campus Outreach
CHANGING HEALTH, ATTITUDES, + ACTIONS TO RECREATE GIRLS
ChemER
Chess Club
Chinese Club at UIC
Chi Alpha Campus Ministries
Chi Sigma Omega Sorority
Chi Sigma Tau
Chicago Engineering Design Team
Chicago Hyperloop
Chinese Club at UIC
Christians on Campus
Club for American Sign Language
Club Tennis at UIC
Collaborative Health Network
Colleges Against Cancer
Collegiate 100
Collegiate Entrepreneurs Organization
Collegiate Panhellenic Council
Community Drug Education Committee
Couture Du Jour
Cultural Cinema Club
Deeper Life Campus Fellowship
Deeper Roots in Christ
Delta Epsilon Mu- Psi Chapter
Delta Epsilon Psi Fraternity, Inc
Delta Phi Epsilon Sorority
Delta Phi Omega Sorority,Inc.
Delta Psi Alpha Multicultural Co-Ed Fraternity Inc.
Delta Xi Phi Multicultural Sorority, Inc.
DESIgn Movement
Disability and Human Development Undergraduate Student Association
Downtown Voices
Eastern European Student Association
EcoArts
Elohist Bible Study
Engineering World Health
Engineers for a Sustainable World
Euchre Club
FCG Consulting
Fearless Undocumented Alliance
Filipinos in Alliance
Finance and Investment Group
First Love Ministry
Food Recovery Network
Global Health Student Interest Group
Global Medical Brigades
Hearts for the Homeless UIC
Humanity First Student Organization
Illinois Council of Health-System Pharmacists Student Chapter
Improv Club at UIC
Indian Graduate Student Association
Indigenous Graduate Student Association
Institute for Operation Research and Management Sciences (INFORMS) – UIC Student Chapter
Interfraternity Council
International Students Coalition
Investment Banking Association
Iranian Student Organization
Italian Club
Kappa Kappa Psi
Kappa Pi Beta Fraternity Inc.
Kappa Psi Pharmaceutical Fraternity, Inc
Kids are Scientists Too
Korean American Student Association
LATINE IN LAW
Latino Greek Council
Latino Pre-Medical Student Association
Latinx Organization for Growth in Computing and Academics
Latinx Psychology Alliance
Leaf
Levine Hillel Jewish Student Association
Light the Way
Management Leadership Association
MannMukti at UIC
Men's Club Soccer
Men's Club Volleyball
Men's Lacrosse Club
Men's Rugby
Men's Ultimate Frisbee
Middle Eastern Pre-Health Society
Mindful Student
Minority Association of Pre-Medical Students
Mujeres en Medicina
Multiethnic Individuals' Xperiences Explored through Dialogue (MIXED)
Multi-Ethnic Inter Varsity Christian Fellowship
Muslim Student Association
National Alzheimer's Buddies
National Arab American Medical Association NextGen
National Association of Black Accountants
National Community Pharmacists Association
National Society of Black Engineers
Navigators
New Life Volunteering Society Undergraduate
Newman Catholic Student Organization
Omega Delta Phi Fraternity Inc.
PAKISTANI STUDENTS ASSOCIATION
Palestine Children's Relief Fund
Phi Alpha Delta Pre-Law Fraternity
Phi Kappa Psi Illinois Theta Chapter
Polish American Pharmacist Association Student Committee
Portfolio Management Team
Pre-dental club
Pre-Health Affiliated Students
Pre-Health Mentor Network
Pre-Health Society of Chicago
Pre-Law Society
Pre-Nursing Student Organization
Pre-Pharmacy Club
Pride at the University of Illinois at Chicago
Public Health Alliance
Quantitative Trading Club
Quantum Information Science Society @ UIC
Radical Public Health
Redeemed Christian Church of God North America Campus Fellowship
Reptile and Amphibian Association
Running Club
Sabor Latino Dance Club
Self-Defense and Assault Awareness
Sexual Health Awareness and Peer Education
Sigma Alpha Mu
Sigma Lambda Gamma National Sorority Inc.
Sikh Student Association
Social Gaming Club
Socialist Alternative at UIC
Society of Automotive Engineers
Society of Hispanic Professional Engineers
Society of Women Engineers
Softball
South Asian Student Association
Steam Train
Student Advocacy Coalition
Student National Pharmaceutical Association – Rockford
Student Nutrition Association
Student Society of Veterinary Pharmacists
Student Steel Bridge Club
Students for a Democratic Society
Students for Justice in Palestine
Table Tennis Club
Taekwondo Club at UIC
Tang Soo Do
Tau Kappa Epsilon Fraternity
Teething Wisdom
Thaakat
The Film Society
The Real Estate Club
Theta Lambda Beta Fraternity, Inc.
Trackers
Union of Puerto Rican Students
United Women's Network
Urban Planning and Policy Student Association
Vietnamese Student Association
Women's Club Volleyball
Women's Health Initiative
Women's Lacrosse Club at the University of Illinois at Chicago
Women's Rugby Club
Women's Ultimate Frisbee
Young Americans for Freedom Chapter

Departments:
African American Academic Network
Alternative Spring Break
Applied Health Sciences Student Council
Army ROTC
Athletics
Campus Recreation
Career Services and Student Employment
Centers for Cultural Understanding and Social Change
CHANCE Program
Commuter and Off-Campus Life
Department of Economics
English
Global Asian Studies
Jane Addams Hull-House Museum
Human Development & Learning Program – College of Education
L@s GANAS
LAS Career Development and Internships
Latin American Recruitment and Educational Services (LARES) Program
New Student and Family Programs
Office of International Services
Office of the Dean of Students
OVCAS TRANSPORTATION
School of Theatre and Music
Sparkathon
Student Activities Board
Student Leadership and Civic Engagement
Student Legal Services
TRIO Student Support Services
UIC AANAPISI Initiative
UIC Alumni Association
UIC Army ROTC/Military Science Department
UIC Business Career Center
UIC Dining Services
UIC Engineering Career Center
UIC Innovation
UIC Police Department
UIC Study Abroad Office
UIC Sustainability
UIC Venues & Events
UI Health Volunteer Services Department
Undergraduate Student Government
Wellness Center

Groups signed up for Wednesday, August 30, 2023, in alphabetical order.

Aahana
Accounting Club
Active Minds at UIC
Adoptee Student Union
Al Bayyan
alpha Kappa Delta Phi
Alpha Kappa Psi
Alpha Phi Alpha Fraternity, Inc.
Alpha Phi Gamma National Sorority Inc.
Alpha Phi Omega
Alpha Psi Lambda National, Inc.
Alpha Sigma Tau
American Association of Public Health Dentistry
American Institute of Aeronautics and Astronautics
American Marketing Association Collegiate Chapter
American Medical Women's Association
American Society of Civil Engineers
Anakbayan
Anthropology Club
Applied Health Science Student Council
Archery Club at UIC
Art Collective at UIC
Asian American Students In Alliance
Asian Campus Fellowship
Asian Christian Fellowship
Association for Computing Machinery
Association of Indian Pharmacists in America
Association of Justice for Kashmir
Association of Latino Professionals For America
Autoimmune Action & Advocacy
Badminton Team
Beta Gamma Sigma
Biomedical Discovery Club
Biomedical Engineering Society
Black Student Coalition
Black Student Union
Black Students in Business
Black, Indigenous, People of Color Dietetics and Nutrition Association
Blood Buds
Blood Drive at UIC
BRASA at UIC
Campus Outreach
CHANGING HEALTH, ATTITUDES, + ACTIONS TO RECREATE GIRLS
ChemER
Chess Club
Chinese Club at UIC
Chi Alpha Campus Ministries
Chi Sigma Omega Sorority
Chi Sigma Tau
Chicago Engineering Design Team
Chicago Hyperloop
Chinese Club at UIC
Christians on Campus
Club for American Sign Language
Club Tennis at UIC
Collaborative Health Network
Colleges Against Cancer
Collegiate 100
Collegiate Entrepreneurs Organization
Collegiate Panhellenic Council
Competitive Gaming Club
Couture Du Jour
Cultural Cinema Club
Deeper Life Campus Fellowship
Deeper Roots in Christ
Delta Epsilon Mu- Psi Chapter
Delta Epsilon Psi Fraternity, Inc
Delta Phi Epsilon Sorority
Delta Phi Omega Sorority,Inc.
Delta Psi Alpha Multicultural Co-Ed Fraternity Inc.
Delta Xi Phi Multicultural Sorority, Inc.
DESIgn Movement
Disability and Human Development Undergraduate Student Association
Downtown Voices
Eastern European Student Association
Elohist Bible Study
Engineering World Health
Engineers for a Sustainable World
Euchre Club
FCG Consulting
Fearless Undocumented Alliance
Filipinos in Alliance
Finance and Investment Group
Food Recovery Network
Global Health Student Interest Group
Global Medical Brigades
Hearts for the Homeless UIC
Humanity First Student Organization
Illinois Council of Health-System Pharmacists Student Chapter
Improv Club at UIC
Indian Graduate Student Association
Indigenous Graduate Student Association
Institute for Operation Research and Management Sciences (INFORMS) – UIC Student Chapter
Interfraternity Council
International Students Coalition
Investment Banking Association
Iranian Student Organization
Kappa Kappa Psi
Kappa Pi Beta Fraternity Inc.
Kappa Psi Pharmaceutical Fraternity, Inc
Kids are Scientists Too
Korean American Student Association
LATINE IN LAW
Latino Greek Council
Latino Pre-Medical Student Association
Latinx Organization for Growth in Computing and Academics
Latinx Psychology Alliance
Leaf
Levine Hillel Jewish Student Association
Light the Way
Management Leadership Association
MannMukti at UIC
Men's Club Soccer
Men's Club Volleyball
Men's Lacrosse Club
Men's Rugby
Men's Ultimate Frisbee
Middle Eastern Pre-Health Society
Mindful Student
Minority Association of Pre-Medical Students
Mujeres en Medicina
Multiethnic Individuals' Xperiences Explored through Dialogue (MIXED)
Multi-Ethnic Inter Varsity Christian Fellowship
Muslim Student Association
National Alzheimer's Buddies
National Arab American Medical Association NextGen
National Association of Black Accountants
National Community Pharmacists Association
National Society of Black Engineers
Navigators
New Life Volunteering Society Undergraduate
Newman Catholic Student Organization
Omega Delta Phi Fraternity Inc.
PAKISTANI STUDENTS ASSOCIATION
Palestine Children's Relief Fund
Phi Alpha Delta Pre-Law Fraternity
Phi Delta Chi Professional Pharmacy Fraternity
Phi Kappa Psi Illinois Theta Chapter
Physical Therapy for Ukraine at University of Illinois Chicago
Polish American Pharmacist Association Student Committee
Portfolio Management Team
Powerlifting Club
Pre-dental club
Pre-Health Affiliated Students
Pre-Health Mentor Network
Pre-Health Society of Chicago
Pre-Law Society
Pre-Nursing Student Organization
Pre-Pharmacy Club
Pride at the University of Illinois at Chicago
Project Sunshine
Psi Chi: The International Honor Society in Psychology
Quantitative Trading Club
Quantum Information Science Society @ UIC
Radical Public Health
Redeemed Christian Church of God North America Campus Fellowship
Running Club
Sabor Latino Dance Club
See the Silver Lining
Self-Defense and Assault Awareness
Sexual Health Awareness and Peer Education
Sigma Alpha Mu
Sigma Lambda Gamma National Sorority Inc.
Social Gaming Club
Socialist Alternative at UIC
Society of Automotive Engineers
Society of Hispanic Professional Engineers
Society of Women Engineers
Softball
South Asian Student Association
Steam Train
Student Advocacy Coalition
Student Association of Medical Artists
Student National Pharmaceutical Association – Rockford
Student Nutrition Association
Student Society of Veterinary Pharmacists
Student Steel Bridge Club
Students for a Democratic Society
Students for Justice in Palestine
Table Tennis Club
Taekwondo Club at UIC
Tang Soo Do
Tau Kappa Epsilon Fraternity
Teething Wisdom
Thaakat
The Ethiopian and Eritrean Association
The Film Society
THE UMBRELLA
Theta Lambda Beta Fraternity, Inc.
Trackers
Union of Puerto Rican Students
United Women's Network
Urban Planning and Policy Student Association
Vehicle Electronics and Systems Engineering
Vietnamese Student Association
Women's Club Volleyball
Women's Health Initiative
Women's Lacrosse Club at the University of Illinois at Chicago
Women's Rugby Club
Women's Ultimate Frisbee
Young Americans for Freedom Chapter

Departments:
African American Academic Network
Alternative Spring Break
Applied Health Sciences Student Council
Army ROTC
Athletics
Campus Recreation
Career Services and Student Employment
Centers for Cultural Understanding and Social Change
CHANCE Program
Commuter and Off-Campus Life
Department of Economics
English
Global Asian Studies
Jane Addams Hull-House Museum
L@s GANAS
LAS Career Development and Internships
Latin American Recruitment and Educational Services (LARES) Program
New Student and Family Programs
Office of International Services
Office of the Dean of Students
OVCAS TRANSPORTATION
School of Theatre and Music
Sparkathon
Student Activities Board
Student Leadership and Civic Engagement
TRIO Student Support Services
UIC AANAPISI Initiative
UIC Alumni Association
UIC Army ROTC/Military Science Department
UIC Business Career Center
UIC Dining Services
UIC Engineering Career Center
UIC Innovation
UIC Police Department
UIC Study Abroad Office
UIC Sustainability
UIC Venues & Events
UI Health Volunteer Services Department
Undergraduate Student Government

TABLES
Accounting Club 174
Active Minds at UIC 4
Adoptee Student Union 96
African American Academic Network 216
Al Bayyan 19
alpha Kappa Delta Phi 42
Alpha Kappa Psi 90
Alpha Phi Alpha Fraternity, Inc. NO SHOW
Alpha Phi Gamma National Sorority Inc. 24
Alpha Phi Omega 156
Alpha Psi Lambda National, Inc. 30
Alpha Sigma Tau 93
Alternative Spring Break 138
American Association of Public Health Dentistry NO SHOW
American Institute of Aeronautics and Astronautics 39
American Marketing Association Collegiate Chapter 147
American Medical Women's Association NO SHOW
American Society of Civil Engineers 171
Anakbayan 10
Anthropology Club 105
Applied Health Science Student Council 99
Archery Club at UIC 111
Army ROTC 72
Art Collective at UIC 186
Asian American Students In Alliance 57
Asian Campus Fellowship 27
Asian Christian Fellowship 126
Association for Computing Machinery 219
Association of Indian Pharmacists in America NO SHOW
Association of Justice for Kashmir 16
Association of Latino Professionals For America 33
Athletics 180
Autoimmune Action & Advocacy 189
Badminton Team 120
Beta Gamma Sigma NO SHOW
Biomedical Discovery Club 36
Biomedical Engineering Society 102
Black Student Coalition 213
Black Student Union 87
Black Students in Business 48
Black, Indigenous, People of Color Dietetics and Nutrition Association NO SHOW
Blood Buds NO SHOW
Blood Drive at UIC 117
BRASA at UIC 168
Campus Outreach 198
Campus Recreation 75
Career Services and Student Employment 222
Centers for Cultural Understanding and Social Change 144
CHANCE Program 204
CHANGING HEALTH, ATTITUDES, + ACTIONS TO RECREATE GIRLS 13
ChemER 210
Chess Club NO SHOW
Chi Alpha Campus Ministries 165
Chi Sigma Omega Sorority NO SHOW
Chi Sigma Tau 21
Chicago Engineering Design Team 201
Chicago Hyperloop 66
Chinese Club at UIC 7
Christians on Campus 60
Club for American Sign Language 84
Club Tennis at UIC 51
Collaborative Health Network 195
Colleges Against Cancer 114
Collegiate 100 207
Collegiate Entrepreneurs Organization 141
Collegiate Panhellenic Council NO SHOW
Commuter and Off-Campus Life 45
Competitive Gaming Club 153
Couture Du Jour 159
Cultural Cinema Club 183
Deeper Life Campus Fellowship NO SHOW
Deeper Roots in Christ 63
Delta Epsilon Mu- Psi Chapter 69
Delta Epsilon Psi Fraternity, Inc 177
Delta Phi Epsilon Sorority 162
Delta Phi Omega Sorority,Inc. 81
Delta Psi Alpha Multicultural Co-Ed Fraternity Inc. 1
Delta Xi Phi Multicultural Sorority, Inc. 78
Department of Economics 150
DESIgn Movement 54
Disability and Human Development Undergraduate Student Association NO SHOW
Downtown Voices 192
Eastern European Student Association NO SHOW
Elohist Bible Study 5
Engineering World Health NO SHOW
Engineers for a Sustainable World 121
English 2
Ethiopian and Eritrean Association 130
Euchre Club 82
FCG Consulting 58
Fearless Undocumented Alliance NO SHOW
Filipinos in Alliance 67
Film Society 125
Finance and Investment Group 61
Food Recovery Network NO SHOW
Global Asian Studies 64
Global Health Student Interest Group NO SHOW
Global Medical Brigades 97
Hearts for the Homeless UIC 79
Humanity First Student Organization 88
Illinois Council of Health-System Pharmacists Student Chapter NO SHOW
Improv Club at UIC 55
Indian Graduate Student Association NO SHOW
Indigenous Graduate Student Association NO SHOW
Institute for Operation Research and Management Sciences (INFORMS) – UIC Student Chapter 151
Interfraternity Council 139
International Students Coalition 148
Investment Banking Association NO SHOW
Iranian Student Organization 34
Jane Addams Hull-House Museum NO SHOW
Kappa Kappa Psi NO SHOW
Kappa Pi Beta Fraternity Inc. 103
Kappa Psi Pharmaceutical Fraternity, Inc NO SHOW
Kids are Scientists Too 112
Korean American Student Association NO SHOW
L@s GANAS 100
LAS Career Development and Internships 145
Latin American Recruitment and Educational Services (LARES) Program 73
LATINE IN LAW 85
Latino Greek Council 28
Latino Pre-Medical Student Association NO SHOW
Latinx Organization for Growth in Computing and Academics 76
Latinx Psychology Alliance 118
Leaf 40
Levine Hillel Jewish Student Association 52
Light the Way 14
Management Leadership Association 109
MannMukti at UIC 115
Men's Club Soccer 11
Men's Club Volleyball 49
Men's Lacrosse Club NO SHOW
Men's Rugby 8
Men's Ultimate Frisbee 17
Middle Eastern Pre-Health Society NO SHOW
Mindful Student 46
Minority Association of Pre-Medical Students 136
Mujeres en Medicina 31
Multiethnic Individuals' Xperiences Explored through Dialogue (MIXED) 91
Multi-Ethnic Inter Varsity Christian Fellowship 70
Muslim Student Association 25
National Alzheimer's Buddies NO SHOW
National Arab American Medical Association NextGen 94
National Association of Black Accountants 43
National Community Pharmacists Association NO SHOW
National Society of Black Engineers 22
Navigators 142
New Life Volunteering Society Undergraduate NO SHOW
New Student and Family Programs 20
Newman Catholic Student Organization 106
Office of International Services 179
Office of the Dean of Students 149
Omega Delta Phi Fraternity Inc. 38
OVCAS TRANSPORTATION NO SHOW
PAKISTANI STUDENTS ASSOCIATION (____)
Palestine Children's Relief Fund 124
Phi Alpha Delta Pre-Law Fraternity 80
Phi Delta Chi Professional Pharmacy Fraternity NO SHOW
Phi Kappa Psi Illinois Theta Chapter 173
Physical Therapy for Ukraine at University of Illinois Chicago NO SHOW
Polish American Pharmacist Association Student Committee NO SHOW
Portfolio Management Team (_____)
Powerlifting Club 68
Pre-dental club 41
Pre-Health Affiliated Students NO SHOW
Pre-Health Mentor Network 50
Pre-Health Society of Chicago 164
Pre-Law Society 47
Pre-Nursing Student Organization 137
Pre-Pharmacy Club 143
Pride at the University of Illinois at Chicago NO SHOW
Project Sunshine NO SHOW
Psi Chi: The International Honor Society in Psychology NO SHOW
Quantitative Trading Club 182
Quantum Information Science Society @ UIC NO SHOW
Radical Public Health NO SHOW
Redeemed Christian Church of God North America Campus Fellowship NO SHOW
Running Club 146
Sabor Latino Dance Club 62
School of Theatre and Music 236
See the Silver Lining 58
Self-Defense and Assault Awareness 123
Sexual Health Awareness and Peer Education 65
Sigma Alpha Mu 9
Sigma Lambda Gamma National Sorority Inc. 18
Social Gaming Club 56
Socialist Alternative at UIC 92
Society of Automotive Engineers 83
Society of Hispanic Professional Engineers 35
Society of Women Engineers 86
Softball 158
South Asian Student Association NO SHOW
Sparkathon 101
Steam Train NO SHOW
Student Activities Board 129
Student Advocacy Coalition 161
Student Association of Medical Artists 122
Student Leadership and Civic Engagement 127
Student National Pharmaceutical Association – Rockford NO SHOW
Student Nutrition Association NO SHOW
Student Society of Veterinary Pharmacists NO SHOW
Student Steel Bridge Club NO SHOW
Students for a Democratic Society 3
Students for Justice in Palestine 89
Table Tennis Club 134
Taekwondo Club at UIC 29
Tang Soo Do 152
Tau Kappa Epsilon Fraternity 71
Teething Wisdom 44
Thaakat 23
Theta Lambda Beta Fraternity, Inc. 32
Trackers NO SHOW
TRIO Student Support Services NO SHOW
UI Health Volunteer Services Department 200
UIC AANAPISI Initiative 98
UIC Alumni Association 104
UIC Business Career Center 119
UIC Dining Services 155
UIC Engineering Career Center 188
UIC Innovation 157
UIC Life 176
UIC Police Department 15
UIC Radio 131
UIC Speech 132
UIC Study Abroad Office 107
UIC Sustainability 170
UIC Venues & Events 110
UMBRELLA 185
Undergraduate Student Government 128
Union of Puerto Rican Students 77
United Women's Network 59
Urban Planning and Policy Student Association NO SHOW
Vehicle Electronics and Systems Engineering NO SHOW
Vietnamese Student Association 95
Women's Club Volleyball 113
Women's Health Initiative 191
Women's Lacrosse Club at the University of Illinois at Chicago 74
Women's Rugby Club 6
Women's Ultimate Frisbee 197
Young Americans for Freedom Chapter 12

Groups signed up for Thursday, August 31, 2023, in alphabetical order.

1 2 Boxing Club
Aahana
Accounting Club
Active Minds at UIC
Adoptee Student Union
Al Bayyan
alpha Kappa Delta Phi
Alpha Kappa Psi
Alpha Phi Alpha Fraternity, Inc.
Alpha Phi Gamma National Sorority Inc.
Alpha Phi Omega
Alpha Psi Lambda National, Inc.
Alpha Sigma Tau
American Association of Pharmaceutical Scientists Student Chapter
American Association of Public Health Dentistry
American Institute of Aeronautics and Astronautics
American Marketing Association Collegiate Chapter
American Pharmacists Association-Academy of Student Pharmacists Rockford
American Society of Civil Engineers
Anakbayan
Applied Health Science Student Council
Archery Club at UIC
Art Collective at UIC
Asian American Students In Alliance
Asian Campus Fellowship
Asian Christian Fellowship
Association for Computing Machinery
Association of Indian Pharmacists in America
Association of Justice for Kashmir
Association of Latino Professionals For America
Autoimmune Action & Advocacy
Badminton Team
Biomedical Discovery Club
Biomedical Engineering Society
Biomedical Imaging Group
Biostatistics Student Association
Black Graduate Student Association
Black Student Coalition
Black Students in Business
Black, Indigenous, People of Color Dietetics and Nutrition Association
Blood Buds
Blood Drive at UIC
BRASA at UIC
Business Analytics Organization
Campus Outreach
CHANGING HEALTH, ATTITUDES, + ACTIONS TO RECREATE GIRLS
ChemER
Chess Club
Chinese Club at UIC
Chi Alpha Campus Ministries
Chi Sigma Omega Sorority
Chi Sigma Tau
Chicago Engineering Design Team
Chicago Hyperloop
Chinese Club at UIC
Club for American Sign Language
Club Tennis at UIC
Collaborative Health Network
Colleges Against Cancer
Collegiate 100
Collegiate Entrepreneurs Organization
Collegiate Panhellenic Council
Community Drug Education Committee
Couture Du Jour
Cultural Cinema Club
Deeper Life Campus Fellowship
Deeper Roots in Christ
Delta Epsilon Mu- Psi Chapter
Delta Epsilon Psi Fraternity, Inc
Delta Phi Epsilon Sorority
Delta Phi Omega Sorority,Inc.
Delta Psi Alpha Multicultural Co-Ed Fraternity Inc.
Delta Xi Phi Multicultural Sorority, Inc.
DESIgn Movement
Disability and Human Development Undergraduate Student Association
Downtown Voices
Eastern European Student Association
EcoArts
Elohist Bible Study
Engineering World Health
Engineers for a Sustainable World
Equestrian
Euchre Club
Every Nation Campus
FCG Consulting
Fearless Undocumented Alliance
Filipinos in Alliance
Finance and Investment Group
First Love Ministry
Food Recovery Network
Global Health Student Interest Group
Global Medical Brigades
Hearts for the Homeless UIC
Humanity First Student Organization
Illinois Council of Health-System Pharmacists Student Chapter
Improv Club at UIC
Indian Graduate Student Association
Indigenous Graduate Student Association
Institute for Operation Research and Management Sciences (INFORMS) – UIC Student Chapter
Interfraternity Council
International Students Coalition
Interprofessional Quality and Safety Student Association
Investment Banking Association
Iranian Student Organization
Italian Club
Kappa Kappa Psi
Kappa Pi Beta Fraternity Inc.
Kappa Psi Pharmaceutical Fraternity, Inc
Kids are Scientists Too
Korean American Student Association
LATINE IN LAW
Latino Greek Council
Latino Pre-Medical Student Association
Latinx Psychology Alliance
Leaf
Levine Hillel Jewish Student Association
Light the Way
Management Leadership Association
MannMukti at UIC
Men's Club Soccer
Men's Club Volleyball
Men's Lacrosse Club
Men's Rugby
Men's Ultimate Frisbee
Middle Eastern Pre-Health Society
Mindful Student
Minority Association of Pre-Medical Students
Mujeres en Medicina
Multiethnic Individuals' Xperiences Explored through Dialogue (MIXED)
Multi-Ethnic Inter Varsity Christian Fellowship
Muslim Student Association
National Alzheimer's Buddies
National Arab American Medical Association NextGen
National Community Pharmacists Association
National Society of Black Engineers
Navigators
New Life Volunteering Society Undergraduate
Newman Catholic Student Organization
Omega Delta Phi Fraternity Inc.
PAKISTANI STUDENTS ASSOCIATION
Palestine Children's Relief Fund
Pan Asian Student Dental Association
Pharmaceutical Sciences Graduate Student Association
Phi Alpha Delta Pre-Law Fraternity
Phi Delta Chi Professional Pharmacy Fraternity
Phi Kappa Psi Illinois Theta Chapter
Polish American Pharmacist Association Student Committee
Portfolio Management Team
Pre-dental club
Pre-Health Affiliated Students
Pre-Health Mentor Network
Pre-Health Society of Chicago
Pre-Law Society
Pre-Nursing Student Organization
Pre-Pharmacy Club
Pride at the University of Illinois at Chicago
Public Health Alliance
Quantitative Trading Club
Quantum Information Science Society @ UIC
Radical Public Health
Redeemed Christian Church of God North America Campus Fellowship
Reptile and Amphibian Association
Running Club
Sabor Latino Dance Club
Self-Defense and Assault Awareness
Sexual Health Awareness and Peer Education
Sigma Alpha Mu
Sigma Lambda Gamma National Sorority Inc.
Sikh Student Association
Social Gaming Club
Socialist Alternative at UIC
Society of Automotive Engineers
Society of Hispanic Professional Engineers
Softball
South Asian Student Association
Steam Train
Student Advocacy Coalition
Student Association of Medical Artists
Student National Pharmaceutical Association – Rockford
Student Nutrition Association
Student Society of Veterinary Pharmacists
Student Steel Bridge Club
Students for a Democratic Society
Students for Justice in Palestine
Table Tennis Club
Taekwondo Club at UIC
Tang Soo Do
Tau Kappa Epsilon Fraternity
Teething Wisdom
Thaakat
The Ethiopian and Eritrean Association
The Film Society
Theta Lambda Beta Fraternity, Inc.
Trackers
Union of Puerto Rican Students
United Women's Network
Urban Planning and Policy Student Association
Urology Interest Group
Vehicle Electronics and Systems Engineering
Vietnamese Student Association
Women's Club Volleyball
Women's Health Initiative
Women's Rugby Club
Women's Ultimate Frisbee
Young Americans for Freedom Chapter

Departments:
African American Academic Network
Alternative Spring Break
Applied Health Sciences Student Council
Army ROTC
Athletics
Campus Recreation
Career Services and Student Employment
Centers for Cultural Understanding and Social Change
College of Urban Planning and Public Affairs
Commuter and Off-Campus Life
Department of Art History
Department of Economics
English
Global Asian Studies
Human Development & Learning Program – College of Education
Jane Addams Hull-House Museum
L@s GANAS
LAS Career Development and Internships
Latin American Recruitment and Educational Services (LARES) Program
New Student and Family Programs
OVCAS TRANSPORTATION
School of Theatre and Music
Sparkathon
Student Activities Board
Student Leadership and Civic Engagement
Student Legal Services
TRIO Student Support Services
UIC AANAPISI Initiative
UIC Army ROTC/Military Science Department
UIC Dining Services
UIC Engineering Career Center
UIC Innovation
UIC Police Department
UIC Study Abroad Office
UIC Sustainability
UIC Venues & Events
UI Health Volunteer Services Department
Undergraduate Student Government
Wellness Center

Groups signed up for Friday, September 1, 2023, in alphabetical order.

1 2 Boxing Club
Aahana
Active Minds at UIC
Adoptee Student Union
Al Bayyan
alpha Kappa Delta Phi
Alpha Kappa Psi
Alpha Phi Alpha Fraternity, Inc.
Alpha Phi Gamma National Sorority Inc.
Alpha Phi Omega
Alpha Psi Lambda National, Inc.
Alpha Sigma Tau
American Association of Pharmaceutical Scientists Student Chapter
American Association of Public Health Dentistry
American Institute of Aeronautics and Astronautics
American Marketing Association Collegiate Chapter
American Medical Women's Association
Anakbayan
Anime & Manga Club
Applied Health Science Student Council
Archery Club at UIC
Art Collective at UIC
Asian American Students In Alliance
Asian Campus Fellowship
Asian Christian Fellowship
Association for Computing Machinery
Association of Indian Pharmacists in America
Association of Justice for Kashmir
Association of Latino Professionals For America
Autoimmune Action & Advocacy
Badminton Team
Biomedical Engineering Society
Biomedical Imaging Group
Black Student Coalition
Black Student Union
Black Students in Business
Black, Indigenous, People of Color Dietetics and Nutrition Association
Blood Buds
Blood Drive at UIC
Business Analytics Organization
Campus Outreach
CHANGING HEALTH, ATTITUDES, + ACTIONS TO RECREATE GIRLS
ChemER
Chess Club
Chinese Club at UIC
Chi Alpha Campus Ministries
Chi Sigma Omega Sorority
Chi Sigma Tau
Chicago Engineering Design Team
Chicago Hyperloop
Chinese Club at UIC
Christians on Campus
Club for American Sign Language
Colleges Against Cancer
Collegiate 100
Collegiate Entrepreneurs Organization
Collegiate Panhellenic Council
Competitive Gaming Club
Couture Du Jour
Cultural Cinema Club
Deeper Life Campus Fellowship
Deeper Roots in Christ
Delta Epsilon Mu- Psi Chapter
Delta Epsilon Psi Fraternity, Inc
Delta Phi Epsilon Sorority
Delta Phi Omega Sorority,Inc.
Delta Psi Alpha Multicultural Co-Ed Fraternity Inc.
Delta Xi Phi Multicultural Sorority, Inc.
DESIgn Movement
Disability and Human Development Undergraduate Student Association
Downtown Voices
Eastern European Student Association
Elohist Bible Study
Enactus
Engineering World Health
Engineers for a Sustainable World
Equestrian
Euchre Club
Every Nation Campus
FCG Consulting
Fearless Undocumented Alliance
Filipinos in Alliance
Finance and Investment Group
First Love Ministry
Food Recovery Network
Global Health Student Interest Group
Global Medical Brigades
Hearts for the Homeless UIC
Illinois Council of Health-System Pharmacists Student Chapter
Improv Club at UIC
Indian Graduate Student Association
Indigenous Graduate Student Association
Institute for Operation Research and Management Sciences (INFORMS) – UIC Student Chapter
Interfraternity Council
International Students Coalition
Interprofessional Quality and Safety Student Association
Investment Banking Association
Iranian Student Organization
Kappa Kappa Psi
Kappa Pi Beta Fraternity Inc.
Kids are Scientists Too
Korean American Student Association
LATINE IN LAW
Latino Greek Council
Latino Pre-Medical Student Association
Latinx Organization for Growth in Computing and Academics
Leaf
Light the Way
Linux User Group
Management Leadership Association
MannMukti at UIC
Men's Club Soccer
Men's Club Volleyball
Men's Lacrosse Club
Men's Rugby
Men's Ultimate Frisbee
Middle Eastern Pre-Health Society
Mindful Student
Minority Association of Pre-Medical Students
Mujeres en Medicina
Multiethnic Individuals' Xperiences Explored through Dialogue (MIXED)
Multi-Ethnic Inter Varsity Christian Fellowship
Muslim Student Association
National Alzheimer's Buddies
National Arab American Medical Association NextGen
National Community Pharmacists Association
National Society of Black Engineers
Navigators
New Life Volunteering Society Undergraduate
Newman Catholic Student Organization
Omega Delta Phi Fraternity Inc.
PAKISTANI STUDENTS ASSOCIATION
Palestine Children's Relief Fund
Pharmaceutical Sciences Graduate Student Association
Phi Alpha Delta Pre-Law Fraternity
Phi Delta Chi Professional Pharmacy Fraternity
Phi Kappa Psi Illinois Theta Chapter
Physical Medicine & Rehabilitation Interest Group
Physical Therapy for Ukraine at University of Illinois Chicago
Polish American Pharmacist Association Student Committee
Portfolio Management Team
Pre-dental club
Pre-Health Affiliated Students
Pre-Health Mentor Network
Pre-Law Society
Pre-Pharmacy Club
Pride at the University of Illinois at Chicago
Psi Chi: The International Honor Society in Psychology
Quantitative Trading Club
Quantum Information Science Society @ UIC
Queers and Allies in Medicine
Radical Public Health
Redeemed Christian Church of God North America Campus Fellowship
Sabor Latino Dance Club
See the Silver Lining
Self-Defense and Assault Awareness
Sexual Health Awareness and Peer Education
Sigma Alpha Mu
Sigma Lambda Gamma National Sorority Inc.
Sikh Student Association
Social Gaming Club
Socialist Alternative at UIC
Society of Automotive Engineers
Society of Hispanic Professional Engineers
Softball
Soran Bushi at UIC
South Asian Student Association
Steam Train
Student Advocacy Coalition
Student National Medical Association
Student National Pharmaceutical Association – Rockford
Student Nutrition Association
Student Society of Veterinary Pharmacists
Student Steel Bridge Club
Students for a Democratic Society
Students for Justice in Palestine
Table Tennis Club
Taekwondo Club at UIC
Tang Soo Do
Tau Kappa Epsilon Fraternity
Teething Wisdom
Thaakat
The Ethiopian and Eritrean Association
The Film Society
THE UMBRELLA
Theta Lambda Beta Fraternity, Inc.
Trackers
Union of Puerto Rican Students
United Women's Network
Urban Planning and Policy Student Association
Vehicle Electronics and Systems Engineering
Vietnamese Student Association
Women's Health Initiative
Women's Rugby Club
Women's Ultimate Frisbee
Young Americans for Freedom Chapter

Departments:
African American Academic Network
Alternative Spring Break
Army ROTC
Athletics
Campus Recreation
Career Services and Student Employment
Centers for Cultural Understanding and Social Change
College of Urban Planning and Public Affairs
Commuter and Off-Campus Life
English
Global Asian Studies
Jane Addams Hull-House Museum
LAS Career Development and Internships
Latin American Recruitment and Educational Services (LARES) Program
New Student and Family Programs
OVCAS TRANSPORTATION
School of Theatre and Music
Sparkathon
Student Activities Board
Student Leadership and Civic Engagement
UIC AANAPISI Initiative
UIC Army ROTC/Military Science Department
UIC Dining Services
UIC Study Abroad Office
UIC Venues & Events
UI Health Volunteer Services Department
Undergraduate Student Government