Jan
20
2021
A Critical Conversation with Dr. Ibram X. Kendi
January 20, 2021
4:00 PM - 5:15 PM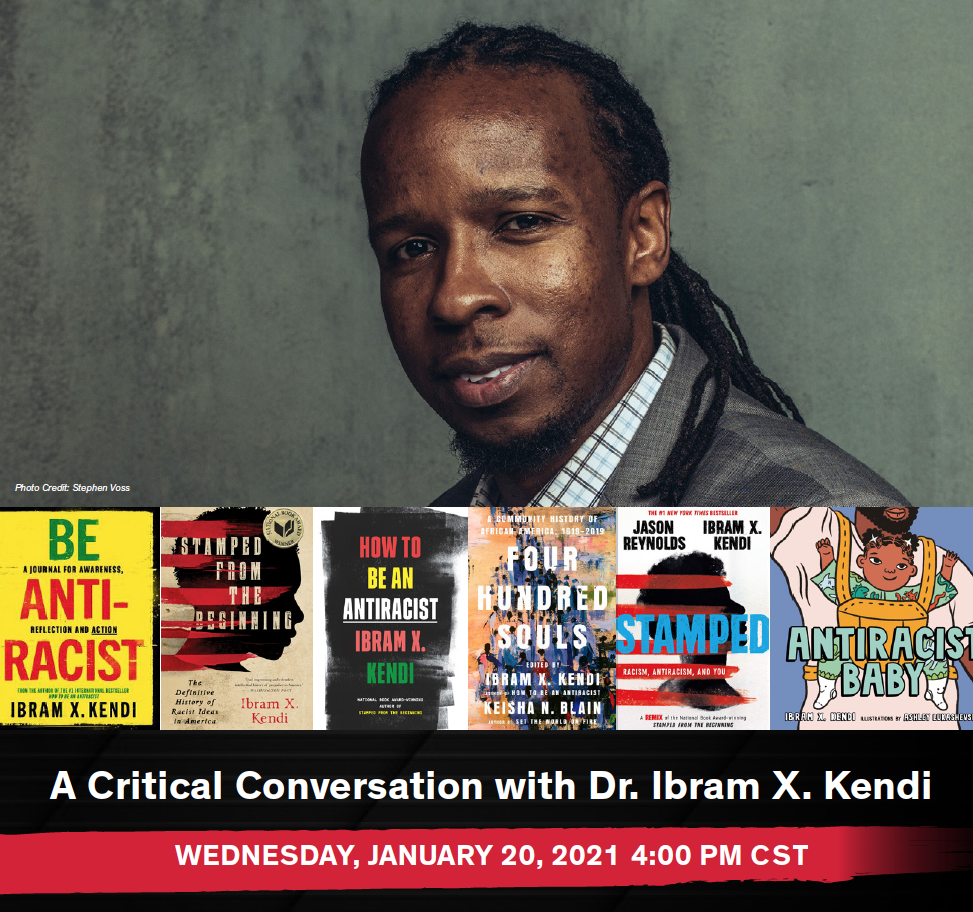 UIC welcomes Dr. Ibram X. Kendi as our 2021 Dr. Martin Luther King, Jr. commemoration speaker.  Dr. Ibram X. Kendi is the Andrew W. Mellon Professor in the Humanities at Boston University, and the founding director of the BU Center for Antiracist Research. He is a contributing writer at The Atlantic and a CBS News racial justice contributor. Kendi is the 2020-2021 Frances B. Cashin Fellow at the Radcliffe Institute for Advanced Study at Harvard University. He is the author of many books including Stamped from the Beginning: The Definitive History of Racist Ideas in America, which won the National Book Award for Nonfiction, making him the youngest ever winner of that award. He also authored three #1 New York Times bestsellers, How to Be an Antiracist; Stamped: Racism, Antiracism, and You, co-authored with Jason Reynolds; and Antiracist Baby, illustrated by Ashley Lukashevsky. His newest books are Be Antiracist: A Journal for Awareness, Reflection, and Action; and Four Hundred Souls: A Community History of African America, co-edited with Keisha Blain, which will be out in February. In 2020, Time magazine named Kendi one of the 100 most influential people in the world.
Join us on Wednesday, January 20, 2021 at 4pm CST. This event will be streamed live, ASL and real-time captions will be provided. For access information, contact Accessible@uic.edu or (312) 725-2793.  To register, visit http://go.uic.edu/MLKKendi.
"We are now faced with the fact that tomorrow is today. We are confronted with the fierce urgency of now. In this unfolding conundrum of life and history, there "is" such a thing as being too late. This is no time for apathy or complacency. This is a time for vigorous and positive action."― Dr. Martin Luther King, Jr.
RSVP
Contact
Center for Student Involvement