Registration 2022-2023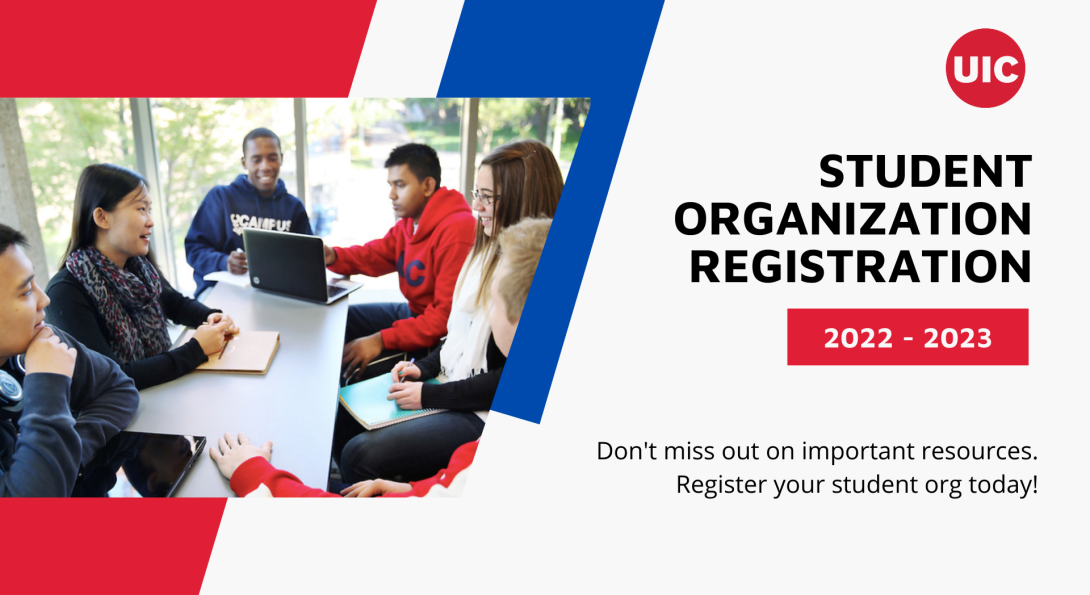 Every April, the Center for Student Involvement (CSI) is responsible for UIC's student organization registration process for over 460 student organizations.
Organizations must RSVP for a Late Registration via Zoom no less than 24hours prior to the lab so we may activate your page in UIC Connection. We are limiting attendance to only ONE officer (president, treasurer, third officer) per organization.
Drop-ins are not allowed. (Drop-ins will have to RSVP for the next registration lab available).
Some student organizations (ie. Fraternity & Sorority Life and sport clubs) may have a dedicated date and time, which has been pre-arranged with your advisor. Please check your email soon for the date and time.
Registration Timeline:
April 1, 2022: Registration for the 2022-23 school year OPENS
May 10, 2022: Last Registration Lab – IN PERSON (note: this is the last session available before Involvement Fair 2022)
May 15, 2022: The deadline for all corrections to be submitted.  Access to resources such as Involvement Fair, summer communication, and room reservations
Late Registration Process: If an organization fails to attend a lab in the spring of 2022, there are limited late registration sessions in the Fall 2022. You will not be able to reserve for space on campus until late September/October.
Please go to the links BELOW and read the information as we have made changes this year to simplify the process.  We have provided you a checklist and handouts to help your new or returning student organization to be successful at UIC in person safely or virtually.
What is registration? Registration is the process that keeps your organization's details up to date and recognized by UIC Center for Student Involvement (CSI).
When do I have to be registered? For fullest consideration in the fall all organizations must be registered by September 30, 2022.
How long does the registration take? Once you've completed all the steps of registration, your registration still must be approved by CSI. This can take between 10-14 business days, so please prepare accordingly.
What happens if I don't meet the deadline? Your organization will be "Frozen." You won't be recognized by CSI and you won't have access to your student organization account until you complete the registration process.