UIC Carnival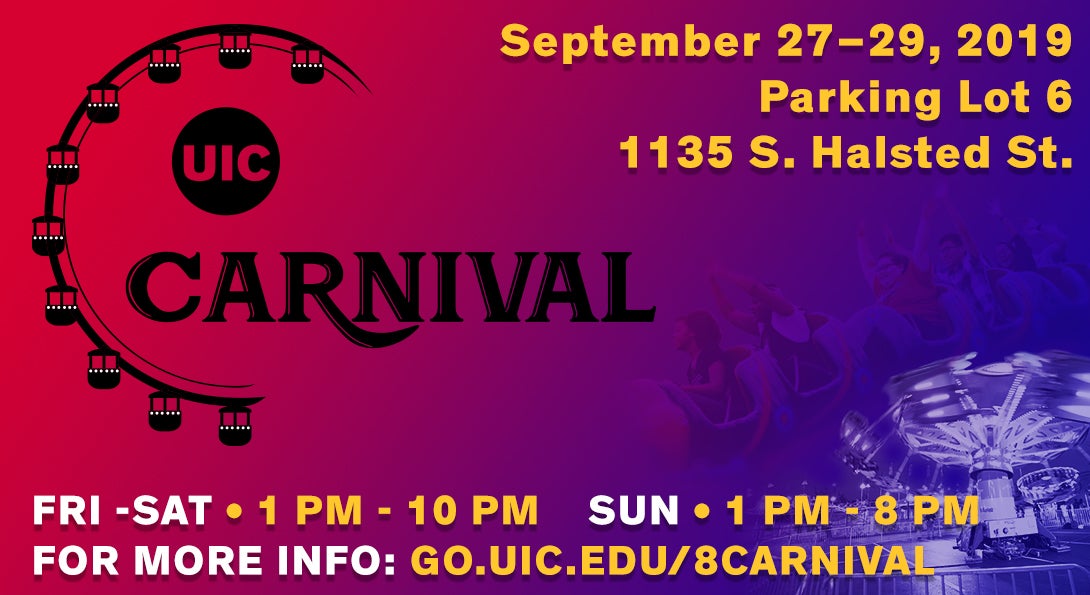 UIC Carnival is making it's triumphant return!
We've got three days lined up:
Day 1:
September 27 (Friday)
1pm to 10pm
Day 2:
September 28 (Saturday)
1pm to 10pm
Day 3:
September 29 (Sunday)
1pm to 8pm
The carnival will be at UIC's Parking Lot 6 on Halsted & Roosevelt.
$10 wristband for UIC students with an event pass. The wristband covers all the rides for one day. Food, beverage and game tickets are sold separately.
Staff, faculty and community members  can purchase wristbands for $30 which will get you unlimited access to all rides for one day. Food, beverage and game tickets are sold separately.
Tickets available for purchase at the event only.
UIC Carnival FAQ'S
What is UIC's Carnival?
Carnival is UIC's annual carnival that is fun for the whole family.
Who can attend?
UIC Carnival is open to everyone!
What rides are available?
The Sizzler, Zero Gravity, Predator, Freak Out, Zipper, Sky Rider, Pharaohs Fury, Fireball, Century Wheel, Bumper Cars, Merry-Go-Round, Free Fall, Dizzy Dragon, Orient Express, Speedway, Train, Fun Slide, and Wacky Shack!
How much does it cost to attend the carnival?
The carnival is free to walk around. $10 for UIC students with a valid event pass. $30 for staff, faculty, alumni and public. The fee will cover a wrist band that gives you unlimited access to all rides and attractions. Food, beverage and game tickets are sold separately.
How much are tickets to play games?
Each ticket purchased is valued at one dollar, you can use the purchased tickets to purchase food and to play games.
Can I refund my wristband or any unused tickets?
All purchases made at the Carnival are non-refundable. Admission refunds or rain checks are not given as a result of inclement weather. Some attractions may close TEMPORARILY until surfaces dry or risk of high winds or lightening has passed. You may get your hand stamped for reentry the same day.
When is the Carnival at UIC?
The carnival will take place Friday, September 26th- Saturday, September 28th.
What time is the carnival?
Friday and Saturday the carnival is from 1pm to 10pm and on Sunday the carnival is 1pm to 8pm.
Where is the location of the carnival?
The carnival will be held in Parking Lot 6 on Halsted and Roosevelt. 1135 S Halsted Chicago, IL 60607.
CTA Directions:
Take Bus 8 to Halsted St. and Roosevelt St.
Take Bus 12 to Roosevelt St and Halsted St.
Driving Directions:
The carnival is located at 1135 S Halsted St Chicago, IL 60607
The closest parking structure is located on Taylor and Halsted at 760 West Taylor Street
We do not offer parking passes. Visit uic.edu/rates-fees/ for more info on parking rates.
What can I bring to the Carnival?
The following items are prohibited to bring to the Carnival:
Bags larger than 14" x 11" x 5" are not allowed in the venue
Cigarettes, cigars, e-cigs or vaping devices
Aerosol containers
All professional video and audio equipment
Camera accessories (selfie sticks, tripods, mounts, etc.)
Drones
No alcohol - this a substance free event.
Security will be checking bags prior to entry into the venue.
Do I have to register to attend the carnival?
There is no registration and no RSVP required. Tickets will be sold at the door.
Can UIC Alumni attend the Carnival?
Yes, Alumni can attend the carnival but they have to pay for access to rides, games and food.
Can I buy tickets ahead of time?
No, tickets are only sold during the Carnival!
Is this event ADA compliant?
If you require ADA accommodations, please reach out to us so we can ensure you have a safe experience! You can email us at studentinvolvement@uic.edu, call us at (312) 413-5070, or message us on any social media platform @UICCSI. We have medical staff on site for emergencies. We do not provide wheelchairs or rides for attendees.
Who is responsible for this event?
This event is sponsored by the UIC Student Activities Board & Center for Student Involvement.
Marketing and Media
For all marketing and media inquiries, email studentinvolvement@uic.edu
Because UIC Carnival is a family event, we expect guests to behave appropriately. Unruly, disruptive or offensive behavior, including line-jumping and profanity, is strictly prohibited and will not be tolerated. Violating our park policies may be cause for ejection from the event without refund.