Feb
19
2021
BHM Keynote Event: Preserve the Culture Q&A with Akua Njeri
Black History Month 2021
Address
Chicago, IL 60612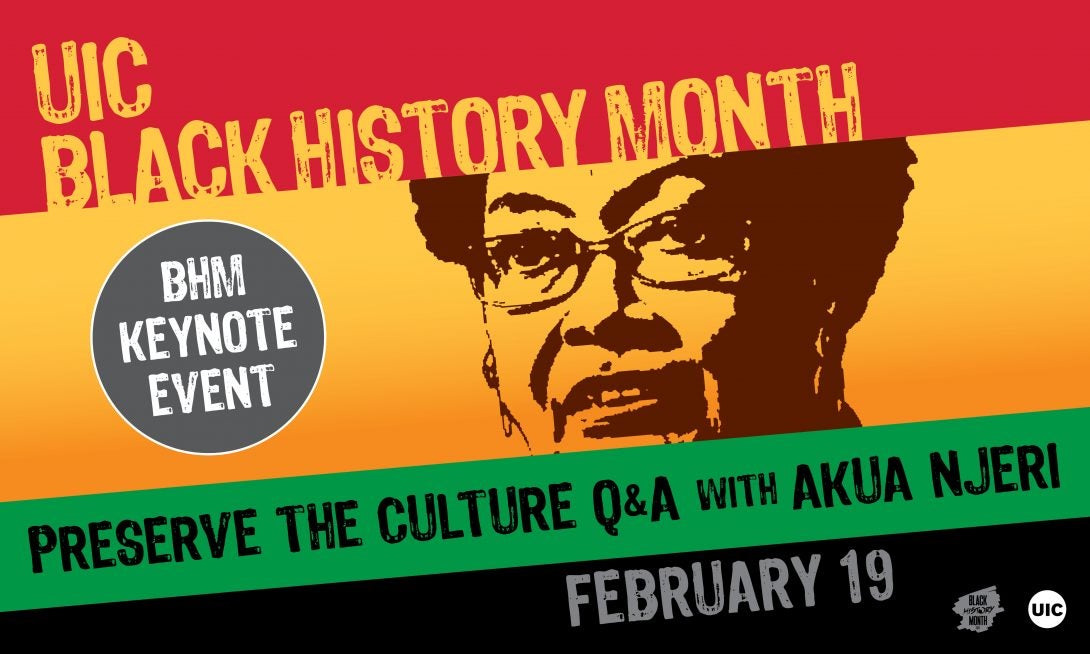 The University of Illinois at Chicago (UIC) would like to give an ode to this Black History Month's theme of "Preserve the Culture" and host a Q&A segment featuring American activist and writer, Akua Njeri. This event will take place on Friday, February 19th, at 6:30 pm CST available through live-stream via YouTube.
Akua Njeri is not only an American writer and activist. She is also a former member of the Illinois Chapter Black Panthers and was Fred Hampton's fiancée. She is a survivor of the December 4, 1969, assassination of Hampton and Mark Clark. She is the mother of Chairman Fred Hampton, Jr. who was scheduled to be the BHM keynote speaker, but due a schedule conflict is no longer available.
Akua currently serves as the chairperson of the December 4th Committee which fights to defend and maintain the legacy of the Black Panther Party and what really happened [horrific murder of her fiancée] on December 4, 1969. She helped oversee the Save the Hampton House Project fundraiser and is involved in a campaign to rename a block in Chicago, 2300 W. Monroe, as Chairman Fred Hampton Way. Akua and her son, Chairman Fred Hampton, Jr. gave insight in the making of the recently released film, Judas and the Black Messiah.
Judas and the Black Messiah, is a 2021 American biographical drama film about the betrayal of Fred Hampton (Daniel Kaluuya), chairman of the Illinois chapter of the Black Panther Party in late-1960s Chicago, at the hands of William O'Neal (Lakeith Stanfield), an FBI informant. The film helps tell the story of the Black Panther Party through a perspective beyond the stereotypical view of what the political organization stood for.
Join us for a Q and A live stream with Akua who will talk about her experience in the Illinois Black Panther Party, her activism, and reflect on the movie, Judas and the Black Messiah, currently streaming on HBO Max.
Preserve the Culture Q&A with Akua Njeri is FREE to and open to the public. Please RSVP.
RSVP
Contact
Center for Student Involvement
Date updated
Feb 17, 2021